about us
In 1994, before NASCAR Racing by Papyrus even existed, there were a few simulation racers who owned IndyCar Racing, Papyrus' "other" simulator, who wanted to see some Winston Cup cars in their game. So a fella by the name of Tony Johns decided to oblige, painting a set of IndyCars in the livery of NASCAR's top teams. The set, ICRNAS, spread rapidly around the Internet and gained a loyal following. Some of those users banded together with Johns to form the ICRNAS racing series, using NASCAR-style points systems and the IndyCar game.
When NASCAR Racing was released, Johns received numerous requests to produce a Winston Cup set for the simulator. At the time, he was busily attending to the Internet Winner's Circle Championship (IWCC), ICRNAS' extension into the NASCAR Racing game. The series used a 1994 car set designed by Johns as its official opponents, so he decided to post it under the name of IWCCCARS. To make a long story short, the popularity of the set and demand for other car sets quickly outgrew (and eventually outlived) the IWCC series, and soon a separate Web site was spawned to support it.
After two years of shepherding IWCCCARS from a one-man operation to a full fledged "Project" with nine designers from around the world, Tony moved on to a job with Sierra Online/Papyrus. In that space of time, the Project produced twenty-two car sets for NASCAR Racing 1 alone. IWCCCARS' traditions of prompt troubleshooting service and timely updates have also won many new "converts" to the Project. And best of all, everything IWCCCARS has produced is free of charge and will remain that way.
We all owe Tony a great debt of gratitude for his vision and his commitment to quality. We will continue to strive for perfection in the cars we create, maintaining the legacy that is IWCCCARS. Take some time and read about the people now responsible for IWCCCARS. And, as always, thank you for your patronage and support!
If you have questions, please check our Q and A page first before e-mailing us. If you still can't find the answers to your questions, you can e-mail your questions about IWCCCARS to: iwcccars@mchsi.com
Project Coordination
Ken is the Director of IWCCCARS and resides in Iowa City, Iowa, with his wife, Keli, and their daughter, Angelís. He is dedicated to making IWCCCARS "the" site for Sim-Racing carsets. Ken also edits most of our car file biographical info. If you have any questions about IWCCCARS, please e-mail him.
Jim is the IWCCCARS co-webmaster and the N2/99 and N3 Series carset coordinator. He is an electrical engineer by day and a Sim Racer by night. Jim is a huge Dick Trickle fan, and has painted many cars for N1, N2, N99, N3 and NL. Jim painted most of the cars in the IWCCCARS Superbirds carset patch for N@50, and also created/painted most of the cars for The Pits Trans-Am patch for NL. He is also one of IWCCCARS lead NASCAR car painters, and reviews most of the NASCAR series car files before they are posted on the website.
Scott is also an IWCCCARS co-webmaster, NASCAR4 Series carset coordinator, and an excellent N4 and N3 car painter. He has been a racing fan all his life, and loved NASCAR since it was first televised. He's personally raced some autocross, and has owned/played every sim Papyrus has made since the original release of Indy Car Racing. Scott's favorite active drivers are Jeff Gordon, Mark Martin, and Dale Earnhardt Jr. He works as a TPF Mainframe programmer/software support tech for EDS, working with travel industy systems. Scott also does some graphic layout work on the side.
Jan is the webmaster of The US Pits. Along with serving as our gratious host, he also contributes to the IWCCCARS project in many ways. Jan has been known to paint a few cars, and is a html wizard. He is still known to make the long journey to England to quaff good ale, and walk around with a controller glued to his hands from a hard night of racing...
Tracy is our NASCAR Legends Car Coordinator and lives in Lincoln, Nebraska. He has run at one time or another all of the NASCAR Sims from Papyrus. Tracy currently races with NASCAR 99 because it's modem capable, and Legends because the cars are so much more interesting to him ... he owns a cherry 67 Dodge Charger, as seen below. He loves Drag Racing, Hot Rods, Computers, and good cigars. Tracy is currently saving up for the 2001 Daytona 500 to see the re-entry of Dodge in Winston Cup racing.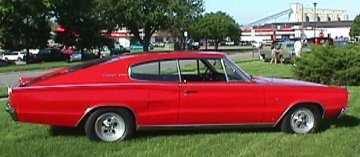 Vince is the head of the Iwcccars Touring Cars project and SCGT coordinator. He lives in Lakewood, Ohio and has his own auto refinishing business as well as a Honda/Acura speed shop in the works. He is married to Jennifer and has two boys (Yellow lab and red Daschund). Vince is the owner/driver of TSR racing, a TPTCC touring car team. He races in group A with an Iwcccars sponsored Honda Accord. He is also the Editor of TPTCC's Newswire.

Stats and Research
Earl has the distinction of being IWCCCARS' longest tenured member! A lifelong resident of Honolulu, HI, Earl is the creator of The Unions cartoon characters and comic strip of the same name. He produces critically acclaimed car sets for both ICR2 and GP2, and he does historical and statistical research for our NASCAR series cars, along with the occasional artistic input.
Mike provides our Starting Grid Files. He is an avid fan of racing, especially NASCAR and Rusty Wallace. Mike has been involved in sim racing since '96. An electronics technician and reactor operator by trade, he has gotten back into programming after a 13 year hiatus.
N4 Car Painters
Gene has been racing with the iwccracing league and has built a bit of a reputation for painting some really nice custom cars for online racing. It's a thrill to have even more great talent hook up with us, and we look forward to sharing more of Gene's work!
David is a computer programmer in Irvine California. He have been a racing fan for many years, and is a season ticket holder at California Speedway and frequently visit other raceway's in California for various racing series. David drove 30 laps at California Speedway in a cup car last year via the "Racing Experience". He is an avid sim racer focusing primarily on Nascar 4 and F1 CS 2000, and also enjoys DTR Sprint Cars, Sports Car GT, and NHRA 2.
N3 Car Painters
Casey is one of our best N2/99 and N3 car painters, and he is a big fan of Dale Earnhardt and the University of Tennessee. He spent 7 1/2 years in the Air Force as a C-130 Crew Chief, but now resides in in Dallas,Texas, where he works as the Service Manager for an Air Conditioning Company. Casey states, "I would throw my computer in the trash if it wasn't for NASCAR Racing by Papyrus." Casey also owns and operates the KC3 Designs website, focused on fictional cars for N3 and N4

Cristian Marchi joins us as our only European NASCAR car painter! Cristian is 21 years old and lives in Felegara, a small town near Parma in Italy. He is attending the University of Parma and working to became a civil engineer. Cristian is interested in all forms of racing competition, naturally NASCAR but also CART and F1. His hobbies include computers, planes and model-making.

Roger attends Southwestern Illinois College, and aspires to be a pro bowler some day. He is a big NASCAR fan, and lives near gateway int'l, attending several races a year there. Roger has made 20 yearly trips to the Indianapolis 500, starting when he was 5 months old! He's also been to 6 NASCAR Brickyard races. Roger paints cars for both N2/99 and N3. He also paints carsets for Indy Car Racing 2. Check out his website: Rog Neb Racing

Gary has worked with Papyrus Racing Sims since the release of N1. However, was not active in the Internet Sim Racing Community until N99. He currently resides on Long Island (NY) - Home to Some well know NASCAR Figures including the Parks, Greg Sacks and The Brunnhoelzls. Since his website 3 Wide Racing opened in March of 1999, he has painted hundreds of cars and trucks for Papyrus's Nascar Racing Series games. Gary now does a majority of his painting in conjunction with the IWCCCARS Project. He is full time employed on the internet, and works weeknights and weekends on the Pit Crew of the #8x NASCAR Modified Driven by Eddie Brunnhoelzl Jr.

Shawn is 28 years old and lives in Montana and works as an old ironworker/welder. He is a Rusty Wallace fan and a very avid Nascar fan, along with his little "Nascar buddy" - his 4yr old daughter who is a HUGE Jeff Burton fan :) Shawn has painted many of our N3 Nostalgia cars. He is also into 4x4ing, drawing and of course racing online with Nascar3.
Barry is 16 and lives in Smithville, Tennessee. He currently paints No Bull cars and special paint scheme cars. His favorite NASCAR drivers drive for the Yates, Roush, and Bill Davis teams. He also likes Bill Elliott and Gregg Biffle. Barry competed in AIR, an offline-racing league, the two seasons that it ran. He unofficially won the series in its second and final season, but had to settle for second when the director decided not to count the final race. On a lighter note, Barry would like to add: "Cool beans!"
Terry is 42 years old and lives in Austin, Texas and works as an environmental consultant. He joins us to paint trucks for N3. His father was a local dirt track racer, but gave it up when Terry's younger brothers and sisters were born. Terry like all forms of racing, but his two favorites are CART and the NASCAR Craftsman Truck series. He feels that both series are very competitive. "I don't really have a strong favorite in either series, I'm more a fan of the sport and the competiveness in each series."
N2/99 Car Painters
Wes is our youngest member, and resides in Maryland. He has always wanted to race and hopes to get the chance when he`s old enough. His favorite drivers are Ward Burton, John Andretti, and Kyle Petty. Wes contributes to IWCCCARS by painting nostalgia and Winston Cup cars for N2/99.
Brent is 14 and lives in Batesburg-Leesville, SC and he is huge NASCAR fan. His favorite drivers are Dale Jarrett, Ricky Rudd, and Mark Martin. In his spare time he enjoys playing the drums, racing on the computer, and painting cars. He paints Winston Cup cars for N2/99.
N1 Car Painters
Dave is an N1 painter and General Manager of Woof Motorsports, "We're not just chasing cars anymore". Woof Motorsports is the "Home Of The Golden Bone Award", where you will also find "BSDR Track Editing". Dave is also a member of "Half Fast Racing".