Tony Stewart ARCA photo page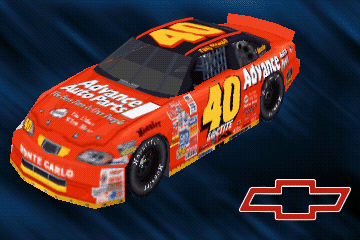 Comments by the photographer, Roger Nebelsick: Tony has raced at the Du Quoin "Magic Mile" many times before, but always in a sprint car. The ARCA Southern Illinois 100 was always run on Sunday and the USAC Silver Crown 100 was run on Monday (Labor Day)
Well this year (2001) they switched the days that the 100 milers were run and Ken Schrader approached Tony Stewart with the idea of entering in the ARCA race held on Monday after Darlington. Needless to say he took that oppertunity, and with the help of Frank Kimmel, they put together the #40 Advance Auto Parts car.
Schrader also ran, along with car owner Andy Petree. The place was sold out, with over 10,000 people watching the event. Tony was very happy to come back to Du Quoin, and I really have no idea why the car was a ford with chevy decals ... the attention of that aspect makes this car truly unique.
---
Click on any of the thumbnails to see the full size jpegs.

Pictures below copyright © 2001 by Roger Nebelsick