the N@50 project - Winged Warriors
In conjunction with Superbird.com, IWCCCARS is proud to present the Winged Warriors for The Pits and Simulator Cyberworld's N@50 patch...many people have been waiting YEARS for a chance to drive the Plymouth Superbird and Dodge Daytona...and many thought they would never see them again. But they're back, and better than ever in this recreation of the warriors of the early 1970s on the NASCAR circuit.

Jim Kerekes and Wes Hurd provided the artistic skill to do all the cars, there are currently 19 cars in the set. Ken Noffsinger of Superbird.com provided historical data and photos. As well, there is a special gallery on Superbird.com (AeroWarriors) in conjunction with this release of the Winged Warriors carset, a photo exhibition with exclusive photos of Richard Petty's Superbird...that never got to race. For more historical information on the Winged Warriors of NASCAR, check them out...you won't be disappointed. After all, how MANY races did the winged Chryslers win?


screenshots here are the Winged Warriors...just click on image to enlarge. SVGA.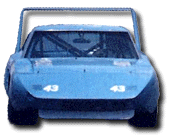 the download Click on the 'bird to download the IWCCCARS Winged Warriors Carset for NASCAR Racing. NOTE: It is recommended that you get the N@50 patch (found at The Pits or Simulator Cyberworld) prior to running the Superbird set, however, they can be used on any version of Papyrus's NASCAR2 or NASCAR99 without the patch. Papyrus's NASCAR Racing 2, NASCAR99 or NASCAR 50th Anniversary Edition required for this patch. This patch is Rendition and 3dfx compatible. This carset is not to be posted on any other website, or provided on any other form of digital media without expressed written permission of IWCCCARS or The Pits.