Latemodels Carset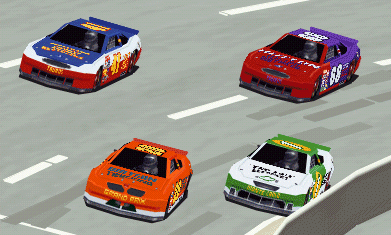 IMPORTANT: PLEASE READ!

You must read and understand the following information before downloading this carset.

Andrew Hickman, Webmaster of Salvation Racing, has developed a cars.dat file that reconfigures the body shape, to what has to be the best looking Latemodel I've seen to date. Using Andrews' dat file, I painted this fictitious car set, but used the names of some of the East Coast modified drivers that were the racing heroes of my youth. Most of these "Kings of the Short Tracks" have since retired, and a few are running laps on that track in the sky. I guess you could say, this is my humble tribute to the guys I rooted for on many a Friday and Saturday night, long ago.

For those who remember some or all of the drivers listed, my apologies for not matching paint schemes and in many cases car numbers with the driver. These changes will occur in future revisions of the set. For this version, I wanted to concentrate on graphic balance and not authenticity. In my minds eye, a latemodel body style looks something like a Chevy, Ford or Pontiac, but not exactly. Using Andrews dat file and a bit of shading on my part, IMHO I feel the latemodel "look" has been achieved.

All 1999 carsets are saved as zip files. You will need a program to unzip these files. If you don't have a zip utility, you can download the shareware version of Winzip, versions are available for Windows 3.1, 95, 98 and NT users.
IMPORTANT: Your car body shape will change after installing this new carset. Make sure that you backup your cars.dat file before installing this carset. The cars.dat file is located in the directory below. When you want your original body shape back, simply copy your backup cars.dat file back into the directory listed below. To install the carset, unzip all files contained in this archive to the following directory:
NASCAR 2 users: unzip the files to your ..\sierra\nascar2\cars directory
NASCAR 1999 users: unzip the files to your ..\sierra\nr1999\cars directory
After you have unzipped this file into its proper folder, you will see a file named cars.tmp file. This cars file contains gray wheels instead of the red ones in the active dat file. Just swap the file extensions if you're not fond of red racing wheels.
I would like to take this opportunity to thank Andrew Hickman of Salvation Racing, for giving me permission to use his cars.dat file in my car set. I recommend you visit his web site. He has two very good looking latemodel car sets posted, along with some other neat items.
A lot of time went into painting these cars, and I hope you enjoy them. I fully support the NO PIRACY campaign. This carset is not to be modified and distributed or posted anywhere else without prior written consent from Iwcccars and The US Pits. Iwcccars and The US Pits are not responsible for any problems arising with your computer when using this carset.
I am always open for comments, questions and suggestions, so you can e-mail me at farleys@wf.net
Tim Farley
Download the Latemodels Carset