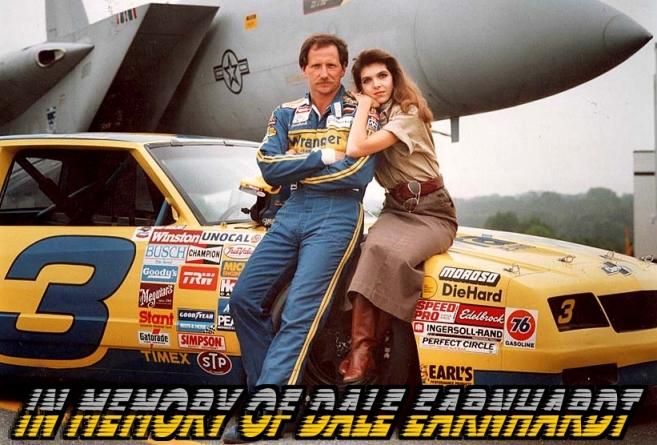 IWCCCARS
Tribute to Dale Earnhardt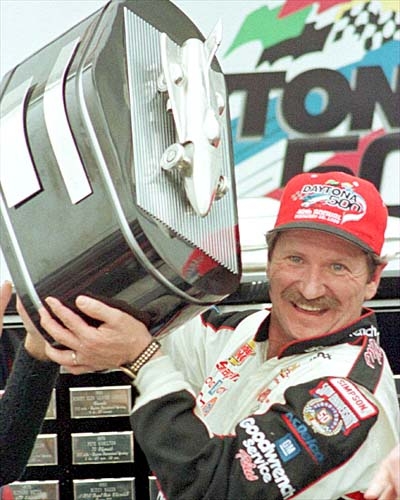 I've been a big fan of Dale Earnhardt since Cale Yarborough retired back in 1988/'89 (Cale was my favorite stock car driver up to that point). I always enjoyed watching Big-E race, he had talent beyond most drivers he competed against, and always tried to make the most of that talent. For me, Dale was more than just a race car driver, his views of racing and competition were ones that I could use as life lessons. I've even used comments from Dale as well as racing situations he was in as examples when teaching Sunday School. For me, the memory of Dale Earnhardt that seemed to typify him best, isn't really a memory of him at all.

I was visiting my wife's uncle Ron one evening (Ron has been a great inspiration to me) and I was wearing my Earnhardt seven time champ T-shirt at the time. Ron was giving me a hard time about it, generally commenting on Dale's sometimes rough style of driving. I explained to Ron that there was more to this man, and started talking about the depth I saw in Dale Earnhardt's character from some of his more notable moments (like the "Pass in the Grass" and the '97 Daytona 500 where he climbed back into his wrecked/rolled car and kept on driving even with no chance to win). Ron backed off of the teasing and shared a moment when he saw a lot of depth in Dale's character as well.

Ron talked about a race that I had missed, where Earnhardt was in second place near the end of the race. With just a few laps left there was some kind of problem on the track and the caution flag was out. None of the lead lap cars pitted except for Dale (whom I remind you was in second place). He came back out of the pits and was no longer in the top ten. By the end of the race, he had made it back to second place and would have passed the leader if there were one or two more laps left. In the post race interview, Dale was asked why he had come into the pits since it was such a big risk. Dale's response was to basically say that he knew he couldn't win doing what he was doing, he didn't have the car for it. So the only way he could win was to do something different. It had been a risk, but he wasn't running for second place.

I'll always see Dale Earnhardt as a man who understood, that if you want things to be different in the future, you have to change what you are doing now (I pray NASCAR's officials will learn this lesson soon). I think it is another statement of Dale's character that he lost his life, not trying to win, but trying to help a good friend win. I will miss watching Dale do what it takes to win, showing his strength of character in the process. I will miss Dale Earnhardt.

Scott Stockton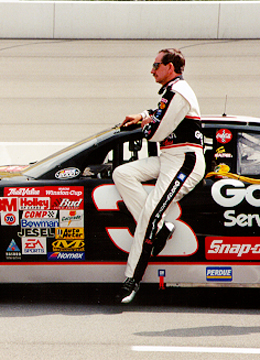 &nbsp&nbsp&nbsp&nbsp&nbsp&nbsp&nbsp&nbsp&nbsp&nbsp&nbsp&nbsp&nbsp&nbsp&nbsp&nbsp&nbsp&nbsp&nbsp&nbsp&nbsp&nbsp&nbsp&nbsp&nbsp&nbsp&nbsp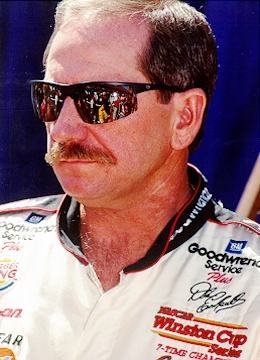 I've been a race fan for many years, and I've seen the passing of many drivers.&nbsp Each incident has torn at my insides, but the passing of Dale Earnhardt is second to none.&nbsp I'm still in shock and disbelief.&nbsp Not the Intimidator, not Dale Earnhardt.&nbsp It can't be! Tears of joy welled up in my eyes at Michael Waltrip's victory in the Daytona 500, followed by tears of sorrow several hours later when I learned Earnhardt was dead.

He was bigger than life.&nbsp He was NASCAR! His accomplishments in Winston Cup will stand for many years to come.&nbsp I felt that this season would be Earnhardt`s much-desired 8th Winston Cup Championship.&nbsp He was in his prime, he felt good, and he had that fire in the belly.&nbsp But now we will never know.

It's been a week since his death, and I still grieve.&nbsp But my grief has changed to outrage at the cavalier attitude of NASCAR's officialdom.&nbsp What does it take to make them realize they have a serious problem to address? With three driver deaths last year, why didn't NASCAR undertake major efforts to implement soft-wall technology that might have saved Earnhardt's life? They've given the mediocre excuse that it would take too long to clean the track after a collision with a soft wall.&nbsp But in a sadly prophetic statement the week before his death, Earnhardt himself said, "I'd rather they spend 20 minutes cleaning up the track than cleaning me off the wall."

I'll not lay blame on NASCAR for Earnhardt's death, as some morons have laid blame on Sterling Marlin.&nbsp But if this should happen again (God forbid) and NASCAR still hasn't utilized the recent advances in safety technology, I will then say the blood is on their hands.

As usual, Dale Earnhardt drove the razor's edge in the 2001 Daytona 500, and it ultimately severed his lifeline to our hearts.&nbsp Godspeed, Dale.&nbsp We will miss you.

Ken Shropshire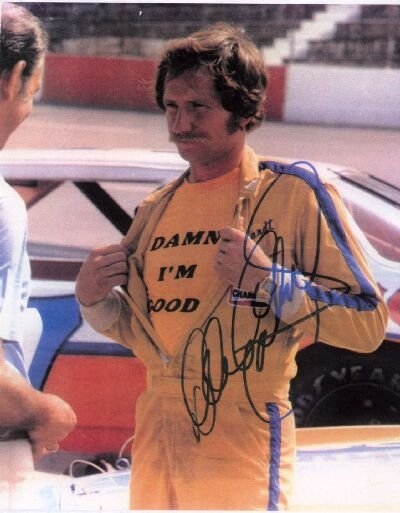 &nbsp&nbsp&nbsp&nbsp&nbsp&nbsp&nbsp&nbsp&nbsp&nbsp&nbsp&nbsp&nbsp&nbsp&nbsp&nbsp&nbsp&nbsp&nbsp&nbsp&nbsp&nbsp&nbsp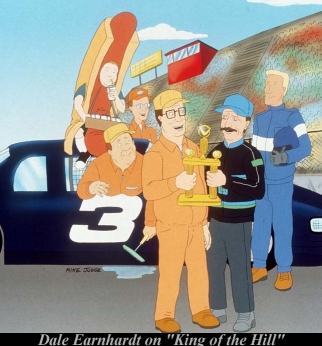 "It sure didn't look that bad," or at least that's what I heard.&nbsp I was on the road listening to the race on the radio, so I didn't see the accident, and I don't really want to.&nbsp The result is still the same.&nbsp Another man has died in a sport where speed is king.&nbsp This time it happened to be Dale. Does it end here? Probably not.&nbsp This is a risk that all race car drivers have come to terms with.&nbsp They don't like to think that they might be next. What upsets me most about this tragedy is NASCAR's lack luster way of dealing with it.&nbsp "We're not going to rush into making any new safety changes" Huh?! Mike Helton, wake up! You've just lost this sport's greatest driver, along with three others last year, and you are not going to "rush" into making changes? How many more must die before NASCAR makes safety a priority over making more money?

Love him or hate him, you had to respect him.&nbsp I have never been an Earnhardt fan, but I had great respect for him as a competitor.&nbsp In fact, I would say that Dale was probably the greatest driver in the history of stock car racing.&nbsp But we have now been reminded that death does not discriminate. When it's your time, it's your time.&nbsp What also upsets me about this tragedy is that some of Dale's fans are blaming Sterling Marlin for his death. While I can understand their frustrations, I sure hope these people realize that placing blame and making threats won't change the outcome.&nbsp All I know is that when I watch stock car racing today and don't see that familiar #3, it just won't be the same.&nbsp Dale, you will be missed.

Jim Kerekes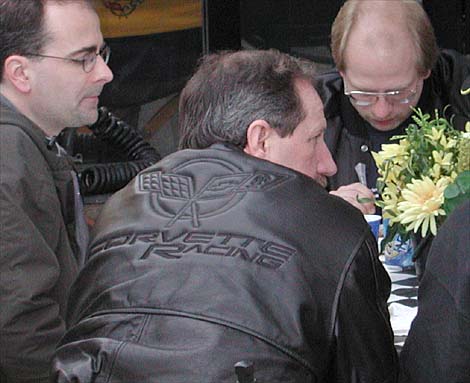 &nbsp&nbsp&nbsp&nbsp&nbsp&nbsp&nbsp&nbsp&nbsp&nbsp&nbsp&nbsp&nbsp&nbsp&nbsp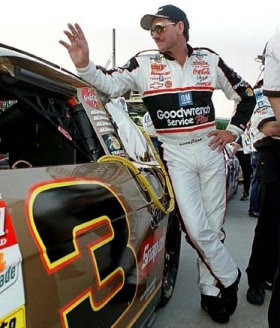 This is a memory I have of Dale Earnhardt.&nbsp It is about him taking out Terry Labonte at Bristol.&nbsp I was staying over night at a campground for a Big Brothers and Big Sisters thing.&nbsp I wasn't really involved with it.&nbsp I just kinda helped out a hanged out with everyone.&nbsp But that night it was the Bristol race.&nbsp The caretaker of the campground let us come up to his trailer (he had direct TV) and watch the race.&nbsp So it was me, my cousin, her husband, and couple of the guys they run around with. We were sitting there watching the race and we were all pulling for anybody but Earnhardt, none of us hated him we just didn't want him to win.&nbsp We all thought Tony Stewart was going to win, but something happened and he wasn't there at the end of the race.&nbsp We watched D.W.&nbsp hit Terry in the butt and bring him around and we thought it was over for him.&nbsp But Terry made it back out.&nbsp We were all on the edge of our seats.&nbsp We were waited for the green flag to fly.&nbsp We saw them start.&nbsp Terry and the 4 fresh tires so he was flying.&nbsp He blew past everybody and made it to Earnhardt, he got passed him, about a lap after that, Dale hit him in the butt and spun him out.&nbsp My cousin's husband was like that F***in Earnhardt.&nbsp Then we heard him say he just wanted to rattle his cage.

This might sound negative toward Earnhardt, but this is what I liked about him, he would make you mad, he would make you watch the race, and he would make you have fun watching it.&nbsp I think he enjoyed being in the spotlight and being able to affect people that way.&nbsp He always would give you a good show.&nbsp That is why I liked him.&nbsp He was never my favorite but he always made it interesting.&nbsp Whenever he was in or near the front, you knew you were in for a real treat. You were watching one of the best in the business.&nbsp He was very talented.&nbsp He was one of NASCAR's biggest stars.&nbsp Nobody will be able to be as big of a star as he was.&nbsp He and the attitude qualities he needed and the talent he needed to become a star.

This is My Memory of Ralph Dale Earnhardt Sr,

Wes Hurd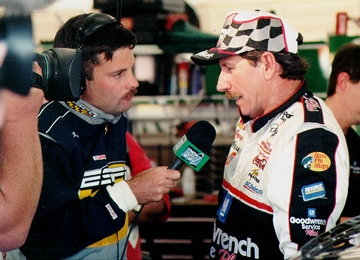 &nbsp&nbsp&nbsp&nbsp&nbsp&nbsp&nbsp&nbsp&nbsp&nbsp&nbsp&nbsp&nbsp&nbsp&nbsp&nbsp&nbsp&nbsp&nbsp&nbsp&nbsp&nbsp&nbsp&nbsp&nbsp&nbsp&nbsp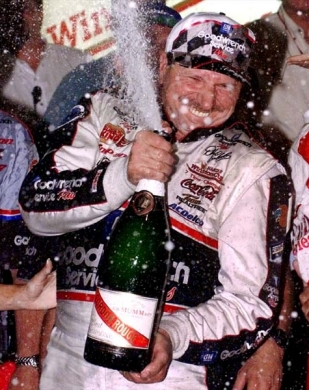 I am not a Dale Earnhardt fan. Never have been and never will be. But Dale earned my respect on and off the track. I was one of the few, if not the only one, who defended his "rattling cage" incident with Terry at Bristol. I truly believe that ALL race fans, no matter who they were rooting for, deep -down inside, a small portion of their inner being, cheered when the black number 3 took the lead. Dale was a champion and legend among champions and legends. He will be truly missed. I was lucky enough to have been at his last race. I just wish I had been able to meet him in person......I know he would've had me laughing!

Mike Cosgrove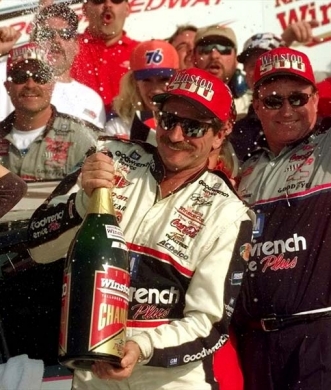 &nbsp&nbsp&nbsp&nbsp&nbsp&nbsp&nbsp&nbsp&nbsp&nbsp&nbsp&nbsp&nbsp&nbsp&nbsp&nbsp&nbsp&nbsp&nbsp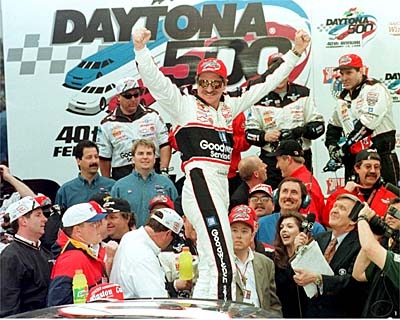 The first Winston Cup race I ever attended was the 1995 Brickyard 400, and Dale won that race of course.&nbsp I never really was a big fan of his, basically because my dad didn't care for him.&nbsp But after that race I saw genius and passion in his driving, and I saw it time and time again.&nbsp I began to relax my dislike for the Intimidator, and as he raced he continued to earn my support.&nbsp It still amazes me how his fans out number almost every other driver in the field, and with that I grew to respect Dale more.&nbsp He still wasn't my favorite driver, but he had my respect.

When news of his death broke to me, I cried.&nbsp Man did I ever cry.&nbsp We lost not only a NASCAR Hero, but we lost an American Hero.&nbsp Dale symbolized what was good about NASCAR and America, and he will continue to.&nbsp I have never been so moved by the passing of one single person in my life.&nbsp I will take what he has taught us about competing, caring, and loyalty, and hang onto it for the rest of my life.&nbsp It is him that serves as a basis of my foundation to my loyalty, and competitiveness.&nbsp He taught me you have to work hard to succeed at whatever you do.&nbsp And Dale did that.&nbsp He will live in the spirits of hearts he touched.

Roger Nebelsick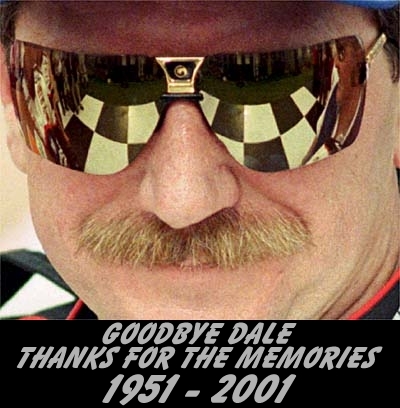 A Few Other Notable Dale Earnhardt Tribute Pages


TheUsPits: "Ode to a Hero" by Jan Kohl


JAYSKI's DALE EARNHARDT TRIBUTE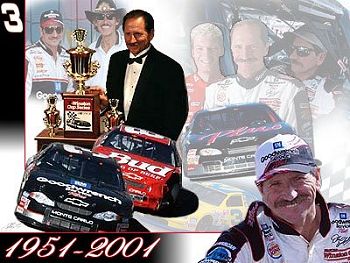 NASCAR Online: Tribute to a Legend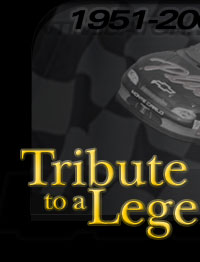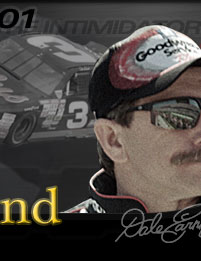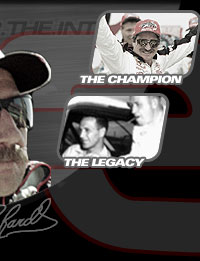 Dale Earnhardt Memorial @ thatsracin.com
Dan Daily's: A Tribute to a True Champion
Victory Lane @ funlaugh.com
These Were the Days to Remember @ sendingfun.com



This is IWCCCARS tribute to Dale Earnhardt. It is a work in progress that will change as time goes by. As new pictures are acquired, and other members of IWCCCARS team are ready/able to share their thoughts and feelings about Dale Earnhardt, this page will be modified to share these images and thoughts of a man who was a part of every stock car racing fan's life.




IWCCCARS HOME


Special thanks to Earl Ma, Phil Clark, and Scott Stockton,
who provided many of the images on this page.
The rest of the images on this page come from many various sources.
If you hold the Copyright to any of these images and do not want them to be used on this page
please email iwcccars (iwcccars@home.com) and we will gladly remove those images.